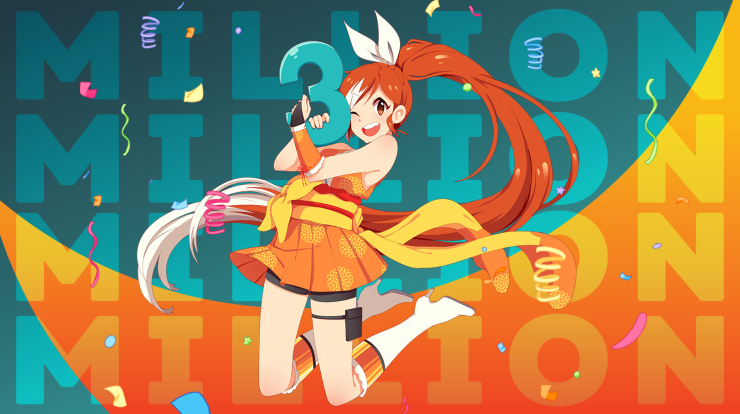 You may have heard about the newest fad of viewing anime on Discord and wish to participate but are still determining how. This article will show you how to stream Crunchyroll on Discord so that you may watch the new season of your favorite anime with your friends! We will also demonstrate how to stream Crunchyroll on Discord with sound and without black screen difficulties.
 How to Stream Crunchyroll on Discord
Can Crunchyroll be streamed on Discord mobile applications? Well, there is a straightforward response to that. No, you cannot watch Crunchyroll using the Discord app on your mobile device, owing to DRM limitations. However, you may share your phone's display. Here you will learn How to Stream Crunchyroll on Discord with your friends.
Install the Discord App
Discord is simple to install on a PC! Visit their website at Discord.com. If you use a device with Windows, Linux, or Apple, the website will detect your operating system and offer you the proper download choice. After downloading and installing Discord, sign in using the QR code scanned from your smartphone.
Perform And Configure Crunchyroll On Discord
1. Launch Crunchyroll in your web browser and have your preferred anime prepared to play. Now dismiss the tab and open the Discord application.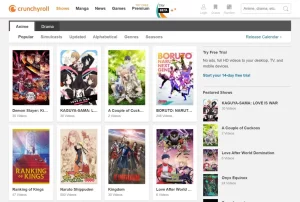 2. Click the "Settings" icon next to your username in the Discord app.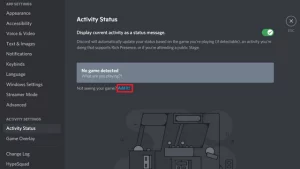 3. Navigate to the "Activity Status" tab in the sidebar on the left and click "Add it!" next to "Not seeing your game?"
4. Now, you will get a list of currently-running background applications. Select the Crunchyroll browser window from the drop-down menu and click "Add Game."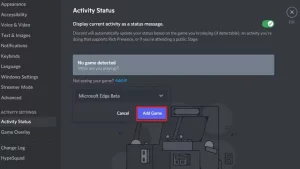 5. Navigate to where you wish to see the anime and click "Stream." You may also join a voice channel by selecting your browser to watch Crunchyroll and clicking the "Share screen" icon in the bottom-left corner.
6. Select the voice channel and resolution for the platform on which you wish to host the Crunchyroll anime.
The maximum resolution for streaming is 720p at 30 frames per second.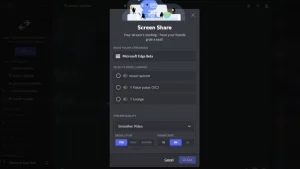 7. To see Crunchyroll at 1080p/60fps, a Discord Nitro subscription is necessary; here's how to acquire Discord Nitro for free.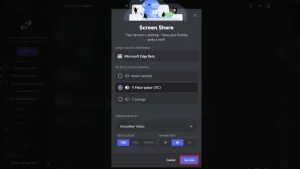 After selecting the channel and streaming quality, click "Go Live" to begin streaming. That concludes the discussion. Members of your Discord server may join your Crunchyroll viewing party by clicking "Live" on the speaking channel. When you're ready to terminate the watch party, click the "End Call" button on the left sidebar.
Disable Acceleration Hardware:
Fix Black Screen Problem With Crunchyroll Streaming On Discord, The obnoxious blank screen is the most common problem people have while attempting to stream Crunchyroll on Discord. You may want to know how to eliminate or stream Crunchyroll without a black screen.
Turn off hardware acceleration in your browser to avoid a blank screen when broadcasting Crunchyroll using Discord. Here are the steps to take in many browsers, including Google Chrome, Mozilla Firefox, and Microsoft Edge.
How To Disable Google Chrome Hardware Acceleration
Launch Google Chrome.
Click the symbol with three dots in the upper-right corner and select Settings.
Select Advanced > System.
Click the "Use hardware acceleration when available" checkbox to disable hardware acceleration.
Press the "Relaunch" button.

How To Turn Off Hardware Acceleration In Mozilla Firefox
Launch Mozilla Firefox.
Click the icon with three horizontal lines and select Settings.
Go to the Performance section by scrolling down.
Uncheck the box next to "Use suggested performance settings."
Uncheck the box next to "Use hardware acceleration when possible."
Select and tap Exit from the Firefox menu.
Now relaunch the Firefox browser.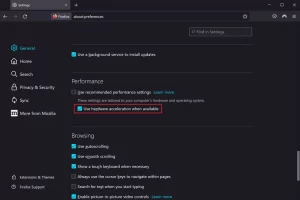 How To Disable Microsoft Edge Hardware Acceleration
Open Microsoft's Edge web browser.
Click the icon with three dots in the upper-right corner and select Settings.
Select System and Performance from the menu.
Deactivate the "Use hardware acceleration when available" checkbox.
Press the "Restart" button.
Final Thoughts: View Crunchyroll Films & Series With Friends On Discord
Now that you understand how to stream Crunchyroll on Discord, you may watch your favorite anime and manga at your leisure. If you haven't already, check out Crunchyroll, the finest online destination for anime and manga, and find your next favorite series with your friends. Enjoy!